UV Industrial Series
The Condor 2 UV is a printer that can print up to 1600mm in width, equipped with CMYK+W and glossy UV Led Inks.
Condor 2 UV allows the printing of glossy, matt or embossed prints on your media. The printer comes with WhiteRIP rofessional RIP software for complete management of colorimetry, layouts and your print stream.
The lamps used in the Condor 2 are UV LED lamp, with ultra-low power consumption. With these lamp, the generated heat is significantly lower, compared to conventional halogen lamps. It allows rapid ink drying and prevents the deformation of materials during the printing process. This way, it is also possible to print on those materials that are more sensitive to heat, without ruining them.
Tailored solutions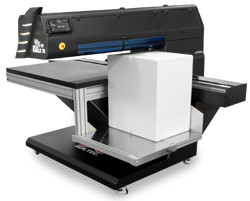 We can create custom printers to satisfy your needs for special processing, integration with automatic printing lines, integration with load and unload equipment or customization for extra size materials.

Material thickness up to 25cm!
One of the most important features is the ability to work with a variable thickness up to 25 cm.
The machine automatically detects the height of the object and sets all parameters to achieve optimum print quality.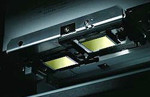 Double print head
Thanks to the 2 last generation piezoelectric printhead with 180 nozzle per channel Condor 2 allow fast and high quality production with vibrant colors and sharp details.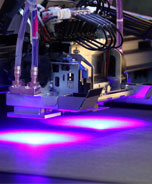 Double water cooled UV Led lamps
Condor 2 UV Led lamps are cooled with a liquid system that thanks to a greater heat dissipation allows leds to work at higher frequencies ensuring an immediate curing. In this way, printing is ready for use immediately after printing without further waiting or processing, saving time and money.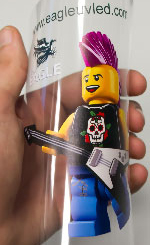 Ecologic and semiflexible UV LED Inks
Eagle uses the ECO-UV ink from DPI, characterized by a high quality of pigments, with a high degree of brightness and a wide color gamut. Due to the high coverage of white ink, you can print on transparent or dark objects without problems.
The prints realized with UV LED inks have a high resistance to wear, scratches and weather, making them suitable also for industrial use and to be used outdoors.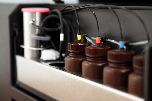 Open ink system
The under pressure ink system avoid the formation of air bubble on the circuit, the white ink is also on constant recirculation to avoid the sedimentation. The result is a global cost reduction with reduced maintenance downtime and less print head cleaning required.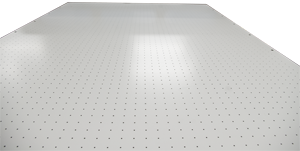 Vacuum and blowing table
The powerful blowing and vaccum table of which the machine is equipped allow to easily place plates materials and keep locked flexible materials avoid movements during the print.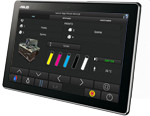 Remote management via tablet
Ser.Tec. printers of new generations can be controlled remotely via tablet. This allow the operator to perform the normal management operations and always have the printer status available.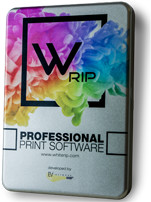 Dedicated software RIP
WhiteRIP is the professional printing software developed by EV Network s.r.l that has specific function for UV and industrial printing to increase output and reduce preparation time like inline printing, template management and glass mode.
Print Area: 1600x2500mm
Max printing tichness: 250mm
Printhead: double 8 channel piezoelettric printhead, 180 nozzle each channel
Max resolution: 1440x1440 dpi
Colors conf.: CMYK, white and gloss
Ink system: bottles

With Inline printing function of WhiteRIP it's possible to print white and color layer together with the same quality, color tone and brightness of the two pass printing but twicing the speed.

The PHPC system produces uniform prints and assures that the head installed in the printer is protected from strikes by constantly checking the position.

IRS is an innovative system that allows your machine to improve performance through a constant recirculation of white ink that prevents creation of sediment and clogging of the nozzles in the head.

Line of dedicated inks, divided into different lines, UV Led, Hybrid and Water base. SER.TEC. and DPI DG Printing recommend its use, as they are specifically for their own printers.

Thanks to sincroprint function you will be able to print the white base and colours together in a single print. This will eliminate the time for the second print halving the time and increasing the output!