Textile inks
The printing on fabric employs inks based aqueous created for maximum yield on fabric.
The white ink eliminates the constraint on the background color allowing you to print on black, dark and colored garments with a high coverage and quality.
Features

High print quality
The high quality of the inks combined with the great accuracy of the Eagle printers allows you to achieve photographic quality even on textiles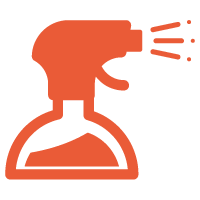 Pretreatment
Our textile inks also include pre-treatment solutions in the range. Pretreatment is only necessary when printing with white ink, but can also be used on light fabrics to increase the brightness of the prints.

Quick drying
After printing, a quick pass in the oven or on a heat press is sufficient to permanently fix the print to the fabric

Elastic
The elasticity of the ink allows the fabric to stretch without cracking the print, resulting in even more resistant prints!
Resistance to washing
Thanks to the innovative formulation, once pressed, the print will be permanently fixed, guaranteeing excellent resistance to washing

Greater versatility
Print on a wide range of fabrics such as cotton, mixed cotton, polyester, viscose, raion, silk, spandex wool and many others!