UV Industrial Series
The new IPack digital machine combines high printing speed and quality performance thanks to the Dimatix 1024 Starfire print heads.
The IPack digital printer is a digital decoration system for the controlled and synchronized application of inks for rigid and semi-rigid substrates.
The platform is designed to accommodate up to 24 heads for 12 colors.
IPack is a multipass system capable of printing large formats i up to 1600mm X infinity.
The automation of the machine consists of a robotic Cartesian drive system with a high degree of precision.
The patented ink recirculation system provides for the automatic management of all critical parameters such as temperature, flow rate and pressure within the circuit. It is equipped with special filters to ensure the interception of any contaminating particles. The ink supply tanks are housed in the back of the machine.
The platform is equipped with a forced thermal station system that keeps the temperature stable, avoiding fluctuations in the physical parameters of the colors.
In many applications, labels can be eliminated by printing directly on objects and packaging in the final stages of the production process; in other applications, the expensive flexo process is eliminated and digitally printed with the maximum flexibility of lots and colors. The advantage? The ability to reduce processing costs and meet constantly evolving business needs, from printing directly on objects to coding and marking solutions in line directly on packaging.
IPack was born as the perfect solution to print up to 350m2/h with 12 colors in draft mode and up to 250m2/h in quality mode thanks to the DIMATIX HQ printhead performance.
Fundamental among the various plus, the oveprint that allows you to print a layer of white before the colors on dark surfaces.
Ser.Tec. also supplies the entire "sheet feeder & stacker" system to make the whole process completely automated.
Tailored solutions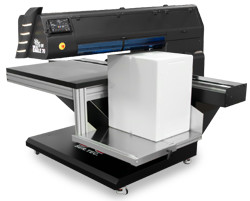 We can create custom printers to satisfy your needs for special processing, integration with automatic printing lines, integration with load and unload equipment or customization for extra size materials.
DIMATIX StarFire SG1024 print heads
Thickness up to 200mm
Printing area width 1200-1600-2500mm
Up to 8 colors
Drops from 6 to 84 picolitres
Ink under constant recirculation