UV Industrial Series
UP FJ is characterized by a belt with suction, unwinder and winder for reel materials, variable height that allows a maximum printing thickness of 200mm and the possibility to mount roller conveyors at the entrance and exit for printing rigid materials.
UP FJ H is equipped with 8 heads with drop on fly technology that allow to reach a maximum resolution of 1200 dpi and guarantee maximum coverage even at the highest speeds up to 30 sqm / h.
The 8 colors include white, varnish, light cyan and light magenta which, together with the variable drop, allow UP FJ H to produce brighter colors, vivid images and a greater color gamut.
Tailored solutions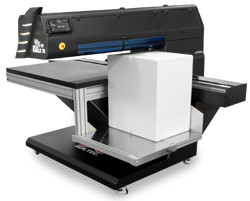 We can create custom printers to satisfy your needs for special processing, integration with automatic printing lines, integration with load and unload equipment or customization for extra size materials.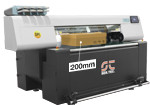 Max. print height of 200mm
One of the most important features of UP FJ H is the ability to work with a variable thickness up to 200 mm.
This make UP FJ H a very versatile printer.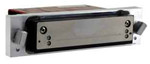 8 High performance print heads
UP FJ is equipped with 8 high performance print heads, one each color. This allow to have high print quality even at the lower resolutions.

UV Led lamps
UP FJ lamp system is perfectly tuned for maximum performance with UV Led DPI ink. Small, low-dose LED pinning lamps close to the printhead freeze the dot, while the main LED curing lamps fully cure the print which is ready to use straight away. Adjustable lamp positioning enables the curing to be finely controlled.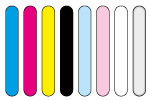 White, gloss and light colors
The 8 UP FJ print heads are configured with CMYK, white, gloss and light colors (cyan and magenta).
This color configuration allows the printer to be very versatile and especially allows to accurately print very defined gradients. The white ink allows the digital printer to print on supports of any color ensuring excellent coverage, while the gloss can be used to ennoble some parts of the print.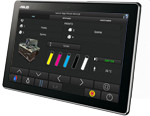 Remote management via tablet
Ser.Tec. printers of new generations can be controlled remotely via tablet. This allow the operator to perform the normal management operations and always have the printer status available.
Print width: 1600mm
Maximum printing thickness: 200mm
Heads: 8
Maximum resolution: 1200dpi
Color settings: CMYK + Lc + Lm + W + GL
Inks system: cartridges
Suction belt
Flatbed and roll to roll printing