At Fespa Hamburg Ser.Tec Group will present a new innovative printer in an automatic printing line.

Visit stand A4-B50

on Monday 8th at 11:00am for the presentation of the new Eagle TX S3 an innovative printer that allows to print at high speed up to 120 garments per hour.

There will be also the Eagle Hybrid 60 and the Eagle UV 70.
Register now and enter at the event for FREE saving €70
Register here
Eagle TX S3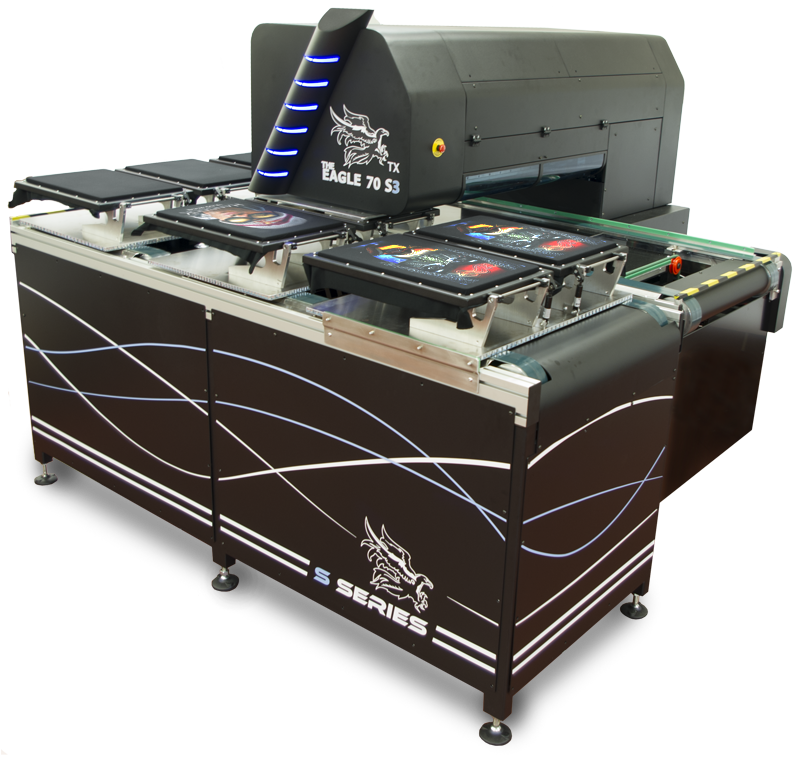 Eagle 70 S3 will be presented within an automatic printing line that allows the operator to load and unload the table in a single station allowing to take full advantage of the speed of the printer to maximize production.

The Eagle, unlike normal printers, was created to answer to industrial needs of flexible and high quality prints without reduce the output volumes. For this reason Eagle TX S feature multiple print heads.
Eagle 70 S can be equipped with 2, 3 or 4 print heads that can be configured to suit your needs.
This feature allows Eagle 70 S to be incredibly fast even when printing black or colored garments.
Eagle Hybrid 60
Eagle Hybrid 60 has been studied for industrial field. Thanks to the innovative inks and IR-Halogen technology the Eagle Hybrid are particularly suitable for ceramic, glass, metal, wood and leather printing.
 
Eagle UV 70
The Eagle UV 70 it's a new printer of the Eagle series featuring a completely new print engine, a new design, a touch-screen control panel and new water cooled double UV Led lamps.
The print area is 700x1500mm and it's available with the following color configurations: 2xCMYK, CMYK+4xW, CMYK+2xW+2xGL making it an incredibly flexible printer suitable to be used in many different sectors like sign, packaging, advertising and finishing.